Lama Michel Rinpoche's najaarstour
Lama Michel Rinpoche geeft van 13 - 17 november 2017 lezingen door heel Nederland
Op 18 en 19 november a.s. geeft hij een
weekend-workshop
in het Mani Bhadra Wensvervullend Meditatie Centrum te Dalfsen.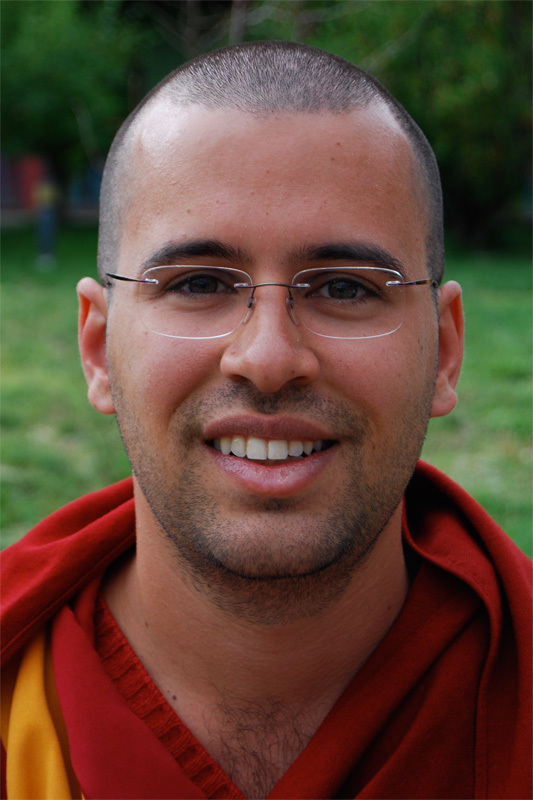 Lezingen in Amsterdam, Tilburg, Nijmegen, Leeuwarden, Groningen en Dalfsen
Aanmelden is noodzakelijk i.v.m. het beperkt aantal plaatsen! Alle lezingen zijn vrij van entreekosten.
Een donatie wordt op prijs gesteld. De lezingen zijn in het Engels.



Wat hebben we in deze moderne tijd aan eeuwenoude boeddhistische filosofie? Hoe pas je deze wijsheid toe in je dagelijkse drukke leven? Lama Michel Rinpoche (36) heeft er zijn levenswerk van gemaakt om de oude kennis – die hij als jonge Braziliaan vanaf zijn twaalfde jaar opdeed in traditioneel Tibetaanse kloosters – op een toegankelijke manier over te dragen aan mensen van deze tijd. Hij geeft les en lezingen over de hele wereld. Met name in zijn moederland Brazilië is hij een nationale bekendheid. Als kind werd hij daar ook wel de Buddha boy genoemd.
Van
13 tot en met 17 november a.s.
zal Lama Michel Rinpoche door heel Nederland lezingen geven over onderwerpen als:
Hoe blijf je gelukkig in deze grillige wereld;
Hoe draag je bij aan kwaliteit van leven;
Hoe vergroot je je eigen geluk, en draag je bij aan het geluk van anderen.
Keizersgrachtkerk, Amsterdam
13 november, 19.30 - 21.30 uur
"How to be happy and connected in our capricious world"
Download de flyer
Fontys Academy for Creative Industries, Tilburg
VOL
14 november, 19.00 - 20.30 uur
"How to increase quality of life of self and others"
Download de flyer
De Lindenberg, Nijmegen
VOL
15 november, 20.30 - 22.00 uur
"How to apply mindfulness and compassion in health care; a dialogue"
Download de flyer
NHL Hogeschool, Leeuwarden
16 november, 14.00 - 16.00 uur
"How to contribute to the happiness of others and increase your own happiness"
Download de flyer
De Nieuwe Academie, Groningen
VOL
16 november, 19.30 - 21.30 uur
"How to achieve a happy mind"
Download de flyer
Mani Bhadra Wensvervullend Meditatiecentrum, Dalfsen
17 november, 20.00 - 21.30 uur
"How to be happy in a fickle world"
__system_view_render_error__: undefined method `each' for nil:NilClass
[
  "/var/www/projects/lgigpf/api/resources/subscriptions/subscriptions.rest.rb:28:in `all'",
  "/home/taco/.rvm/gems/ruby-2.3.1/gems/mojura-0.23.6/lib/mojura/api/lib/api.rb:340:in `call_resource'",
  "/home/taco/.rvm/gems/ruby-2.3.1/gems/mojura-0.23.6/lib/mojura/api/lib/api.rb:288:in `call'",
  "/home/taco/.rvm/gems/ruby-2.3.1/gems/mojura-0.23.6/lib/mojura/webapp/mojura/lib/webapp.rb:100:in `api_call'",
  "/var/www/projects/lgigpf/webapp/views/subscriptions/view_main.rb:6:in `initialize'",
  "/home/taco/.rvm/gems/ruby-2.3.1/gems/mojura-0.23.6/lib/mojura/webapp/mojura/views/viewwrapper.rb:77:in `new'",
  "/home/taco/.rvm/gems/ruby-2.3.1/gems/mojura-0.23.6/lib/mojura/webapp/mojura/views/viewwrapper.rb:77:in `render_view'",
  "/home/taco/.rvm/gems/ruby-2.3.1/gems/mustache-1.0.5/lib/mustache/context.rb:148:in `call'",
  "/home/taco/.rvm/gems/ruby-2.3.1/gems/mustache-1.0.5/lib/mustache/context.rb:148:in `find'",
  "/home/taco/.rvm/gems/ruby-2.3.1/gems/mustache-1.0.5/lib/mustache/context.rb:116:in `block in fetch'",
  "/home/taco/.rvm/gems/ruby-2.3.1/gems/mustache-1.0.5/lib/mustache/context.rb:112:in `each'",
  "/home/taco/.rvm/gems/ruby-2.3.1/gems/mustache-1.0.5/lib/mustache/context.rb:112:in `fetch'",
  "/home/taco/.rvm/gems/ruby-2.3.1/gems/mustache-1.0.5/lib/mustache/context.rb:94:in `[]'",
  "/home/taco/.rvm/gems/ruby-2.3.1/gems/mustache-1.0.5/lib/mustache/template.rb:575:in `render'",
  "/home/taco/.rvm/gems/ruby-2.3.1/gems/mustache-1.0.5/lib/mustache/template.rb:44:in `render'",
  "/home/taco/.rvm/gems/ruby-2.3.1/gems/mustache-1.0.5/lib/mustache.rb:125:in `render'",
  "/home/taco/.rvm/gems/ruby-2.3.1/gems/mojura-0.23.6/lib/mojura/webapp/mojura/lib/webapp.rb:148:in `render_view'",
  "/home/taco/.rvm/gems/ruby-2.3.1/gems/mojura-0.23.6/lib/mojura/webapp/mojura/views/base_body.rb:23:in `block in initialize'",
  "/home/taco/.rvm/gems/ruby-2.3.1/gems/mojura-0.23.6/lib/mojura/webapp/mojura/views/base_body.rb:20:in `each'",
  "/home/taco/.rvm/gems/ruby-2.3.1/gems/mojura-0.23.6/lib/mojura/webapp/mojura/views/base_body.rb:20:in `initialize'",
  "/var/www/projects/lgigpf/webapp/views/body/view_main.rb:6:in `initialize'",
  "/home/taco/.rvm/gems/ruby-2.3.1/gems/mojura-0.23.6/lib/mojura/webapp/mojura/views/viewwrapper.rb:77:in `new'",
  "/home/taco/.rvm/gems/ruby-2.3.1/gems/mojura-0.23.6/lib/mojura/webapp/mojura/views/viewwrapper.rb:77:in `render_view'",
  "/home/taco/.rvm/gems/ruby-2.3.1/gems/mustache-1.0.5/lib/mustache/context.rb:148:in `call'",
  "/home/taco/.rvm/gems/ruby-2.3.1/gems/mustache-1.0.5/lib/mustache/context.rb:148:in `find'",
  "/home/taco/.rvm/gems/ruby-2.3.1/gems/mustache-1.0.5/lib/mustache/context.rb:116:in `block in fetch'",
  "/home/taco/.rvm/gems/ruby-2.3.1/gems/mustache-1.0.5/lib/mustache/context.rb:112:in `each'",
  "/home/taco/.rvm/gems/ruby-2.3.1/gems/mustache-1.0.5/lib/mustache/context.rb:112:in `fetch'",
  "/home/taco/.rvm/gems/ruby-2.3.1/gems/mustache-1.0.5/lib/mustache/context.rb:94:in `[]'",
  "/home/taco/.rvm/gems/ruby-2.3.1/gems/mustache-1.0.5/lib/mustache/template.rb:44:in `render'",
  "/home/taco/.rvm/gems/ruby-2.3.1/gems/mustache-1.0.5/lib/mustache/template.rb:44:in `render'",
  "/home/taco/.rvm/gems/ruby-2.3.1/gems/mustache-1.0.5/lib/mustache.rb:125:in `render'",
  "/home/taco/.rvm/gems/ruby-2.3.1/gems/mojura-0.23.6/lib/mojura/webapp/mojura/lib/webapp.rb:148:in `render_view'",
  "/home/taco/.rvm/gems/ruby-2.3.1/gems/mojura-0.23.6/lib/mojura/webapp/mojura/views/pageview.rb:298:in `render'",
  "/home/taco/.rvm/gems/ruby-2.3.1/gems/mojura-0.23.6/lib/mojura/webapp/mojura/lib/webapp.rb:30:in `render'",
  "/home/taco/.rvm/gems/ruby-2.3.1/gems/mojura-0.23.6/lib/mojura/lib/app.rb:28:in `call'",
  "/home/taco/.rvm/gems/ruby-2.3.1/gems/mojura-0.23.6/lib/mojura/middleware/cookietokens.rb:11:in `call'",
  "/home/taco/.rvm/gems/ruby-2.3.1/gems/mojura-0.23.6/lib/mojura/middleware/methodoverride.rb:16:in `call'",
  "/home/taco/.rvm/gems/ruby-2.3.1/gems/mojura-0.23.6/lib/mojura/middleware/gem_versions.rb:22:in `call'",
  "/home/taco/.rvm/gems/ruby-2.3.1/gems/mojura-0.23.6/lib/mojura/middleware/gatekeeper.rb:42:in `call'",
  "/home/taco/.rvm/gems/ruby-2.3.1/gems/mojura-0.23.6/lib/mojura/middleware/formatter.rb:21:in `call'",
  "/home/taco/.rvm/gems/ruby-2.3.1/gems/mojura-0.23.6/lib/mojura/middleware/staticfiles.rb:20:in `call'",
  "/home/taco/.rvm/gems/ruby-2.3.1/gems/rack-2.0.3/lib/rack/session/abstract/id.rb:232:in `context'",
  "/home/taco/.rvm/gems/ruby-2.3.1/gems/rack-2.0.3/lib/rack/session/abstract/id.rb:226:in `call'",
  "/home/taco/.rvm/gems/ruby-2.3.1/gems/rack-2.0.3/lib/rack/common_logger.rb:33:in `call'",
  "/home/taco/.rvm/gems/ruby-2.3.1/gems/rack-2.0.3/lib/rack/runtime.rb:22:in `call'",
  "/home/taco/.rvm/gems/ruby-2.3.1/gems/rack-2.0.3/lib/rack/show_exceptions.rb:23:in `call'",
  "/home/taco/.rvm/gems/ruby-2.3.1/gems/rack-2.0.3/lib/rack/lint.rb:49:in `_call'",
  "/home/taco/.rvm/gems/ruby-2.3.1/gems/rack-2.0.3/lib/rack/lint.rb:37:in `call'",
  "/home/taco/.rvm/gems/ruby-2.3.1/gems/rack-2.0.3/lib/rack/content_length.rb:15:in `call'",
  "/usr/lib/ruby/vendor_ruby/phusion_passenger/rack/thread_handler_extension.rb:97:in `process_request'",
  "/usr/lib/ruby/vendor_ruby/phusion_passenger/request_handler/thread_handler.rb:152:in `accept_and_process_next_request'",
  "/usr/lib/ruby/vendor_ruby/phusion_passenger/request_handler/thread_handler.rb:113:in `main_loop'",
  "/usr/lib/ruby/vendor_ruby/phusion_passenger/request_handler.rb:416:in `block (3 levels) in start_threads'",
  "/usr/lib/ruby/vendor_ruby/phusion_passenger/utils.rb:113:in `block in create_thread_and_abort_on_exception'"
]